Press and Critics
As in the world of dreams, the art of Jean-Eric GARNIER mingles disparate epochs.
Notwithstanding an exacting realism, the poetic vision triumphs.
Persons and places seem to tumble straight from now a frescoe of Pompeii, now a tapestry of the Renaissance.
A fantasy Venice recedes before labyrinths that beckon the spectator to find his soul.
Panoplies and heraldic arms, fabrics and all kinds of textures swarm or vanish by turns ; thèse are the vehicles to amplify the suggestive power of the artist's image.
Eurydice TRICHON-MILSANI
Art critic
Associate of Centre G.Pompidou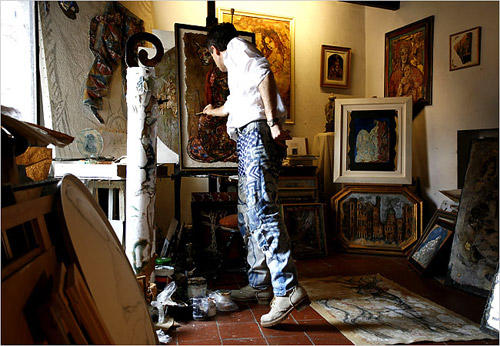 Picture by Ed Alcock for The New York Times
"Jean–Eric GARNIER 's themes demand highly specialysed techniques over long work sessions for their pictorial réalisation.
The painter's intention is to illusion of ancient wall where images are superimposed.
To this end; he creates with great patience (he will often resume a work after several years) a kind of frescoe that seems to have emerged from countless centuries."
Excerpt from "Painter's Secrets" book
JEAN-ERIC GARNIER
(lives and Works at Eze-village, Cote d'Azur)
The value of Rudolph Steiner's methods of education, based on artistic expression, is fully vindicated by the work of painter Jean-Eric Garnier. Garnier's color and draughtsmanship show his affinity with classical traditions; his themes tend to the fantastic and surreal. In the sumptuously elaborated compositions by Garnier, we may, for example, encounter the gaze of some distant princess who seems to offer us her dream (in exchange for what realities we can bring ?).
Garnier is a romantic in the vein of Baudelaire : he summons passions, rêveries, furies.
Yann LE STRAT de SAVINE
Extract from the catalog "20 ans de création sur la Côte d'Azur"
Fondation Sophia Antipolis